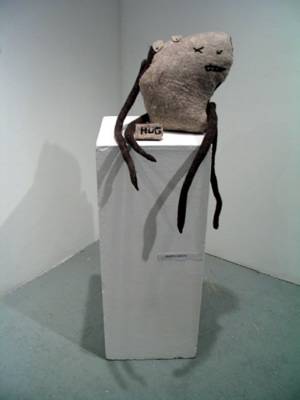 This is the first of a series I hope to complete this year. He stands about a foot tall when he's sitting (I haven't measured exactly his full standing height) and is made from handmade felt. First, I made the felt and then cut each piece. His arms, legs and tail are made by rolling fleece on a bamboo mat with my hands and then throwing them into the dryer for quicker felting. The fleece was in natural colours, as in the fibres weren't dyed.

The best part, though, is the noise maker that has been placed inside his body. When you hug him he lets out a really pathetic groaning shriek which just makes you want to hug him even more.

Currently it is on display in the small Fibre Gallery at ACAD and will soon be seen in a group show benifiting ARTaWEARness in Room 371 at ACAD on October 29th.