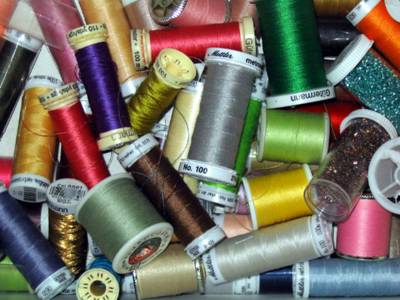 Earlier this afternoon, I was rummaging through the textiles area of the college library when I stumbled across the Portfolio Collection of Darrel Morris. I recognized the name but couldn't remember the work, which is a little shameful for me (really). Darrel Morris is an artist out of Chicago who does the most beautiful minature embroideries (Going, Going, Gone, embroidery and applique, 5"x11". 2003). I became completely overwhelmed by his work. The odd mixture of simplicity and obsessive stitches is mind blowing. I am inspired to satin stitch everything I see...not sketch, no print, but embroider. God.



So, taking a cue from Mr. Morris, I went to the fabric store I work at and purchased 33 spools of polyester thread. Honestly, I should have just picked one of every colour since the sale was "Buy 1, Get 2 FREE" but that didn't occur to me until after. I am excited about embroidering my sampler for Textile History (which will be visually based on my birth control pills) if only for the process of stitching. I am so inspired!



But what doesn't inspire me is the paper that I have to finish writing tonight after I return from the theatre tonight. My mother bought tickets for herself, my visiting aunt, and I to see Sherlock Holmes at the Max Bell Theatre. It will be a nice break from everything, I think.



This week will be spent at school doing a combination of embroidery, research, felting, dyeing and printmaking (etching, in particular). I intend to overwork myself this week. It will be challenging and good.



More of Darrel Morris' work can be found at gescheidle.